Daycare : Where Dogs Come to Play and Learn

Canine Solutions specialised dog daycare 'K9 Campus' is where dog's come to play and learn.
Canine Daycare – Lower Hutt and Upper Hutt
Our Lower Hutt Doggy Daycare is located at 18 Hollands Crescent, Naenae, Lower Hutt (opposite Bunnings Trade).
Our dog daycare caters for all breeds and ages. We specialise in teaching dogs good manners in the pack environment and giving dogs confidence around other dogs and people.  Our dog handlers are trained by Jo Goddard, Canine Solutions Principal Trainer.
If you have issues with your dog around other dogs or people we would highly recommend a home visit session to start the rehabilitation process.
All new dogs joining our pack undergo a 4 weeks trial period to ensure suitability.  As professional dog trainers we understand that not all dogs suit the daycare environment and we will always suggest alternative training options, if this is the case.
We take a genuine interest in your dogs health and well-being and we provide premiere care for your dog while it is in our care.
If you want more than just a play date for your dog while at our Dog Daycare, we offer a 'Play & Train' or a 'Play & Walk' for a small additional cost.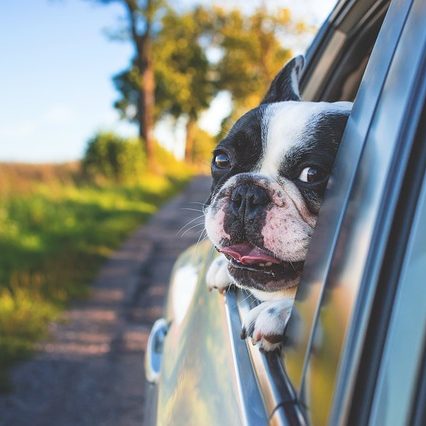 Our shuttle service pick up is between 6.00am – 9.30am and drop off is between 2.00pm – 5.30pm.  We currently have seven vehicles on the road, picking up Wellington wide every day, Monday to Friday.
Due to the current economic environment we are charging $5 per household to assist with the increase of vehicle operating costs.  This will be reviewed in February 2024.
Bookings & cancellations for our K9 shuttle service must be received by 9am the day before to ensure smooth running of our daycare.
We have installed individual custom made crates to make travel the safest experience possible.
Click on your preferred option for more information.
Hours & Customer Pick Up / Drop Off Times:
Monday to Friday – 7am to 6pm. Please ensure drop off is before 10am and pick up is before 6pm.
PAYMENT:
–  Payment is required on the day your dog attends (unless prior arrangements have been made).  All accounts not paid within 7 days of issue will incur interest at 2.5% per month calculated on a daily basis.  You agree to pay to us for any collection costs, agency commission fees, full legal expenses and any other legal expenses incurred by us in attempting to recover payment from you.  By booking into any of our services you are automatically accepting our payment terms and conditions.
– We would highly recommend setting up an AP for the day your dog attends daycare or if they attend multiple times, we would recommend prepaying the week before or consider one of our concession options. 
– Concessions must be prepaid and we will notify you when you are nearing the end of your concession. 
– Payment can be arranged by eftpos (including credit card) or internet banking.  We do not offer refunds. 
PLEASE NOTE:
– A copy of your dogs vaccination certificate, vet details and an emergency contact is required upon first registration.
— Viewings are by appointment only.