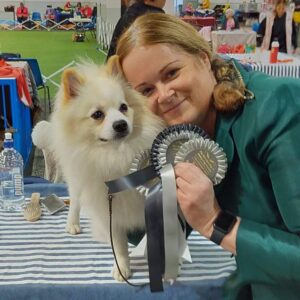 Over the last 23 years, Jo Goddard, principal trainer and owner of Canine Solutions has developed her own comprehensive training program to promote her philosophy of having 'a calm obedient dog'. She is also an approved court expert witness on canine behavior.
Jo has worked extensively with packs of dogs, researching the dog's natural communication signals and the importance of pack hierarchy. She has a comprehensive understanding of the protocols within the pack and the implications if there is confusion within the pack.
Now Jo works with up to 130 dogs a day at our Canine Complex and is now teaching others how to understand pack dynamics and pack protocol, or in human words, how to interpret the 'silent language' of the dog. It's simply amazing to watch!
Jo has a natural ability for reading dogs and communicating in a way they understand. By working in a natural way using her knowledge of the canine pack heirarchy, people are simply amazed at the difference in the way their dog behaves after just one training session.
Through Jo's philosophy of gaining control through a harmonious relationship based on respect and trust you too can enjoy having a calm obedient dog.
Jo started training dogs at a young age and was a senior instructor at her local dog obedience club at 18 years old. Her dream was always to work with and train dogs. So with her natural talent and business background, she is now living her dream and is known and well respected, as one of Wellington's leading dog behaviour specialists.
Jo's high reputation and popularity for providing quality care and training for all things dog, has resulted  in Canine Solutions being the biggest dog daycare facility in Wellington.   Recently Jo has expanded and now runs two successful facilities in Lower Hutt and in Upper Hutt.  She has an amazing team of 14 dedicated and passionate dog loving people assisting her in the day to day running of both facilities.
Each facility offers a comprehensive range of services to ensure all dog owners in Wellington have the opportunity to get the best quality of service for all their dogs needs, including training, socialization, basic grooming and nutrition. Jo believes 'a well cared for dog, is a happy dog' and encourages people to call us for the best in all things dog!
Jo takes pride in her work and has worked tirelessly over the last 23 years to build her reputation and Canine Solutions to the success it is today. Unfortunately some people have taken advantage of this along the way. Please be aware that we do not endorse any training methods used by any ex-employee as it will not be a true reflection of Canine Solutions training techniques, philosophies and intuition.
Jo is also a world wide recognised breeder of German Spitz (Mittel) and the traditional black and white Border Collies.  She has invested a huge amount of resources in DNA profiling of her dogs, importing dogs or semen and successfully campaigning her dogs at conformation shows around the country to gain their Champion status.
If you want the best quality service for your dog then Canine Solutions welcomes you.
Have any questions? Call us now! (04) 977 1110