Where Dogs Come to Play and Learn
Canine Solutions specialised dog daycare 'K9 Campus' is where dog's come to play and learn.  Our Canine Complex – Doggy Daycare is located at 63 Port Road, Seaview, Lower Hutt, Wellington.  Our Complex is open Monday to Friday 7am to 6pm.  
We are also open Saturdays and Sundays 10am for drop off and 4pm pick up.  Our K9 pick up & drop off service does NOT operate weekends..
Our dog daycare caters for all breeds and ages.  We specialise in integrating aggressive dogs back into a pack environment and giving nervous dogs confidence being around other dogs and people. Our dog handlers are trained by Jo Goddard, Canine Solutions Principal Trainer.
Entire male dogs need to be assessed before acceptance at our daycare.
We take a genuine interest in your dogs health and well-being and we provide premiere care for your dog while it is in our care.
Please note if your dog is transferring from another daycare or has been at kennels recently there is an automatic 10 day stand down period before starting at our daycare.  This minimises the risk to our facility of kennel cough contamination.
If you want more than just a play date for your dog while at our Dog Daycare, we offer a 'Play & Train', 'Play & Walk' or a 'Play, Train, & Walk for a small additional cost.
Our K9 pick up & drop off service picks up between 6.00am – 9.30am and drops off between 2.00pm – 5.30pm.  Our vans have been purposely selected for their safety rating and we have installed individual custom made crates to make the travel the safest experience possible.  For dogs living outside our regular pick up areas, we may charge an additional travel fee and influence the day of pick up.  This is to ensure the smooth running of K9 Campus.  We will let you know if this applies to you.   
Bookings for our K9 pick up & drop off service must be received by 1pm the day before to ensure smooth running of our daycare.  
You can also drop off and pick up:  We are the big orange building at 63 Port Rd.  Please ensure drop off is before 10am and pick up is before 7pm.  
| | | | |
| --- | --- | --- | --- |
| Play | | $50 | |
| Play & Train | | $65 | |
| Play & Walk | | $65 | |
| Play, Train & Walk | | $80 | |
| Play Half Day (No pick up & drop off service available) | | $35 | |
| 10 visit Concession – Play Date | | $480 | |
| 10 visit Concession – Play & Train | | $630 | |
We will also require a copy of your dogs vaccination certificate, Vet details and an emergency contact upon first registration.
Concessions must be paid up front and we will notify you when you are nearing the end of your concession.  Terms and conditions apply on all concessions including no refunds.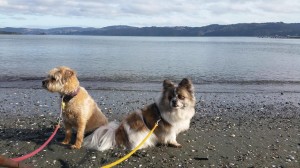 Please Note:  Cancellations MUST be received 24 hours before the day of service otherwise a $25 cancellation fee will be incurred.  Payment is also required on the day your dog attends. This can be arranged by cash, eftpos (including credit card) or internet banking.  Viewings are by appointment only.  
To book please contact 977 1110 or email reception@caninesolutions.co.nz
K9 Campus Play & Train
If you don't have time to train your dog, we can do it for you.  While at Campus we offer a 'play & train' option which is where your dog is trained individually for 10 minutes on all the basics to teach your dog to be well behaved on and off the lead.  This is a great added service for people who work all day and don't have time to train their dog.  We also recommend the parents to touch base with us every few months, to keep up with their dogs training progress and to learn how to carry the training on at home to ensure consistency and to ensure a calm, happy dog at home.  The cost of these parent/teacher sessions range between $80 to $120.
To book please contact 977 1110 or email reception@caninesolutions.co.nz
Problem Dog Socialisation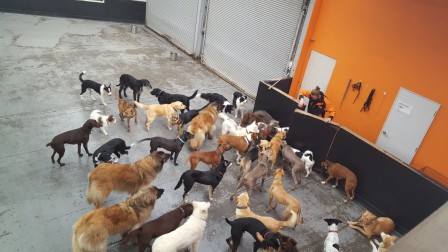 Canine Solutions specialises in integrating aggressive or nervous dogs back into the pack environment.  Jo has a natural talent with dogs and great empathy with people, so with this combination she works well at finding harmony within the pack, giving both dog and owner confidence around other dogs.  At Canine Solutions we like to work with the dog first in the pack environment and once the dog has been sorted then we introduce the owner into the pack. This has been highly successful and extremely rewarding.
To book a session with Jo at our Canine Complex at 63 Port Rd, Seaview, Lower Hutt please contact 977 1110 or email reception@caninesolutions.co.nz
Campus Wash & Dry

We like our dogs leaving K9 Campus looking good and feeling good,  so finish the day at K9 Campus with a wash & dry.   This service is ONLY available for our daycare and Hotel dogs.
| | | |
| --- | --- | --- |
| Wash'n'dry | | $35+ |
| Nail trim | | $10 |
| Worming | | $5.00 per 10kg |
| Flea Treatment | | $15+ |